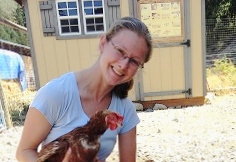 Can you believe it is March already? And it certainly seems to be coming in like the proverbial lion. I have been watching the budding branches of my oak tree sway back and forth, and the few stray leaves left from the fall twirling and swirling around in the brisk breeze. It also seems to be just a tad warmer, and the days are definitely getting longer. I am amazed at how much things can change in just a very short time.
A few weeks back, I reposted a letter from Dr Alice Sievers, to let you know of her wonderful opportunity to pursue her love of all things dental at the Southern Oregon Veterinary Specialty Center. In it, she talked of how she and the staff here at Bear Creek would be looking for a new veterinarian to become your new "go-to person". As many of you know, finding the right person can be difficult. Alice, Victoria, and the fates have all aligned and I am happy to tell you we have a wonderful and talented veterinarian joining us in just a few weeks time!  Her name is Dr Nile McGhie. She hails from coastal Maine, via Minnesota, and loves the outdoors, biking, llamas, and… Well now, why don't I stop rambling. You can read on, and learn about her in her own words.
I present to you an interview with Dr Nile…
Thomas – Where did you work prior to coming to us?
Dr. Nile – The Banfield Pet Hospital.  I was first based in Portland then relocated to Medford last April.  I worked for Banfield for a little over a year, and was an associate veterinarian at another small animal private practice prior to that.
Thomas – Where did you complete your bachelor's degree? What was your major? Did you have a minor?

Dr Nile – I received my bachelor's degree from the University of Maine in Orono, Maine (aka "UMaine") in animal and veterinary science with honors. At UMaine this is a form of dual majors. The animal/vet science portion focused on things like biology, animal nutrition and animal husbandry in order to prepare students interested in pursuing veterinary medicine or other animal biology based careers.  While the honors portion is like a general liberal arts degree which incorporated courses on literature and culture.  I did not have an official minor, however if I did choose one it would have been either in marine biology or microbiology.
Thomas – Where did you go to vet school?
Dr Nile – The University of Minnesota College of Veterinary Medicine, St. Paul, MN.
 Go Gophers!
Thomas – Do you speak a foreign language?
Dr Nile – Yes, Spanish.  I took 3 years of spanish language in school and have continued to use it intermittently while traveling, and occasionally with friends and clients.  I am at a beginner conversational level, or as I like to joke: I can talk like a 4 year old.
Thomas – If you had not become a veterinarian, what would you be doing right now?
Dr Nile – I would likely be a field biologist studying marine mammals.  Although, one point I joked that if I didn't make it through vet school I would quit and become a biology teacher during the school year and a white water rafting guide during the summer.  
Thomas – Briefly tell me about your work with Sanctuary One. (how did you hear about them, what kind of work do you do for them, etc.)
Dr Nile – I learned about Sanctuary One when we moved to the area in June 2014.  I was looking for a way to work with large animal patients on my days off since I was working with small animals only at my day-to-day.  A colleague in the valley (Dr. Jennifer Wicklund of Wicklund Veterinary Care) who also volunteers to care for their small animal residents, recommended I connect with them to see if I could help out, so I did!  I called to sign up for a tour, then met with the animal care manager and applied to be a volunteer.  
I visit the farm roughly once a month to work with the large animal residents with Dr. Dan Cochran of Talent Equine.  Then, once those patients have been cared, for I work with the animal care manager to do check ups for the resident rabbits and poultry (chickens, geese, ducks, etc).  Typically we do initial physical exams for newly admitted residents, then we check up on anyone who has any new health concerns or chronic issues needing care.  I am predominantly involved with hands on direct veterinary care, however I have also been helping to organize the medical records for our residents.
Thomas – I understand that you lived in Maine before moving to Minnesota. Where? What was your favorite part of Maine? Of Minnesota?
D
r Nile – I grew up in "down east" Maine in a small fishing town called Cutler on the "bold coast."  This area of Maine is the Easternmost portion of the Maine coast, and is known for its dramatic sea cliffs and rocky beaches.  I adored being so close to the ocean and federally protected wilderness – so many gorgeous hiking spots!  Honestly I think the thing I miss most is working with the local marine biologists to do marine mammal rehab and getting fresh lobster in the summer from our neighbors for 4th of July.  
When we moved to Minnesota my husband and I lived in St. Paul.  It was a dramatic change to go from rural Maine to living in a big city, but we enjoyed the wide variety of food and cultural events the city has to offer including the state fair and amazing public radio station.  Northern Minnesota also has many gorgeous hiking opportunities which we will miss, but perhaps the thing I miss most is our weekly neighborhood broomball games in the winter.
Thomas – When did you move to Oregon? Why? What is your favorite part of Oregon,so far?
Dr Nile – We moved to Oregon early summer 2014.  My husband was accepted to his top choice nursing school (OHSU in Ashland) for an accelerated bachelor's in nursing degree, and since he was willing to relocate for my 
 veterinary education, we moved for his nursing education.  We love Crater Lake, but perhaps my favorite part so far (other than all the wine and breweries) is exploring the Klamath and Rogue River-Siskiyou National Forest lands.  I enjoying hiking new trails and biking the forestry roads.
Thomas – Tell me about your pets at home.
Dr Nile – We have two pets: a cat named Möbius, and a dog named Mira.  They are both the same age (6yrs), and are both from the Midwest.  Möbi was named for his love of chasing his tail, thus making him look like a blurry Möbius strip, and Mira (Spanish for "to look") was named for her tendency to look you in the eye when you talk to her.  Mira is a rescue who was picked up from a parking lot in Iowa; she is still learning to trust new people, but once she gets to know you she's very playful and silly.  She is part black lab, part border collie and is currently learning how to ride in a new bike cart we made for her to go on long bike trips with us in.  Möbius is very outgoing and loves both people and other cats, and is indifferent to dogs for the most part.  He likes to go camping with us on occasion and is leash trained.  He also likes to show off his "act like a dog skills" by giving high fives and sitting on command, and has trained his humans to open the front door if he's outside by ringing a bell on the doorknob.  
Thomas – How will they feel about me taking over as your favorite pet of all time?
Dr Nile – Mira might freak out a little if she saw you sitting with me until she realized you are a cat, then she'd probably just ignore you.  Möbi will likely be a little jealous at first but will then try to steal you away from me to come play with him instead!
Thomas – If you could visit anywhere in the world, where would it be and why?
Dr Nile – It's so hard to choose!  I have been working on a list of places to visit for a while.  Machu Picchu is probably the most likely place I'll go next as I have family working in northern Peru.  I love llamas/alpacas and would like to see them in their home country as well.  After that, throw a dart at a map and I'll go!
Thomas – What is your favorite sport?
Dr Nile – Currently bicycling.  I love being able to hop on my bike and explore new places or speed up and down hills.  Although, I feel a little guilty saying this as I used to be an avid fencer and would like to get back into that sport some as well.  Similarly, I would like to get better at rock climbing and backpacking/bikepacking and since trying scuba diving once a year ago would like to learn more about that too.  Look, squirrel!
Thomas – Tell me a little about your biking. What is the longest distance you have biked? Have you considered biking the Oregon Coast Route?
Dr Nile – Currently the longest distance I have ridden on a single ride is 40 miles with a friend back in Maine.  A few months ago (before the snow) a group of friends and I rode the rim of Crater Lake which is about 32 miles.
 I'm comfortable commuting 20-25 miles a day but would like to work up to 60 mile rides.  It's funny you should ask about the Oregon coast ride.  We had initially planned to do that trip over three weeks this summer, however Mira is still getting used to her cart and is too shy to leave at a kennel while we're gone so we will have to postpone it till next year.  In the meantime I am exploring the area and planning some shorter bikepacking trips to the Applegate.  I would also like to complete the Ashland Hill Climb within the next 2-3 years (maybe this year?!).
Thomas – What is a little known secret about Dr Nile?
I attended circus school briefly as a mental break while going through veterinary school.  School was starting to burn me out mentally and I needed to get back into physical shape from sitting in classes from 8-5 pm, five days a week.
Thomas – What is your favorite book? Movie? Song?
Dr Nile – Anything written by Douglas Adams (The Hitchhiker's Guide to the Galaxy series). My favorite movie used to be The Nightmare Before Christmas, but I've seen a lot of good films since then and may have to revisit that one. Not sure I have a favorite song, I have a fairly broad taste in music as well.
Thomas – Coke or Pepsi?
Dr Nile – Coke!  Although Dr. Deb's vote for root beer is pretty tempting!
Thomas – Favorite sweet treat?
Dr Nile – Anything from a bakery!  I oscillate between brownies, cookies and cakes, but always love freshly baked bread.  My weekend rituals usually involve either a long bike ride ending at a cafe for chai and a baked good, or baking bread at home with the pets.
Thomas – Thank you, Dr Nile, for taking time out of your busy day to speak with me. I think I speak for all of the staff at Bear Creek Animal Clinic, when I say how pleased and excited we are to have you joining us. We look forward to your first day on March 14th! Is there anything you would like to add, before we wrap this up?
Dr Nile – Thank you, Thomas. It has been great chatting with you. I think the only thing to add is how excited I am to start work at Bear Creek Animal Clinic.  I'm really looking forward to meeting new friends at the clinic, animal and human alike.